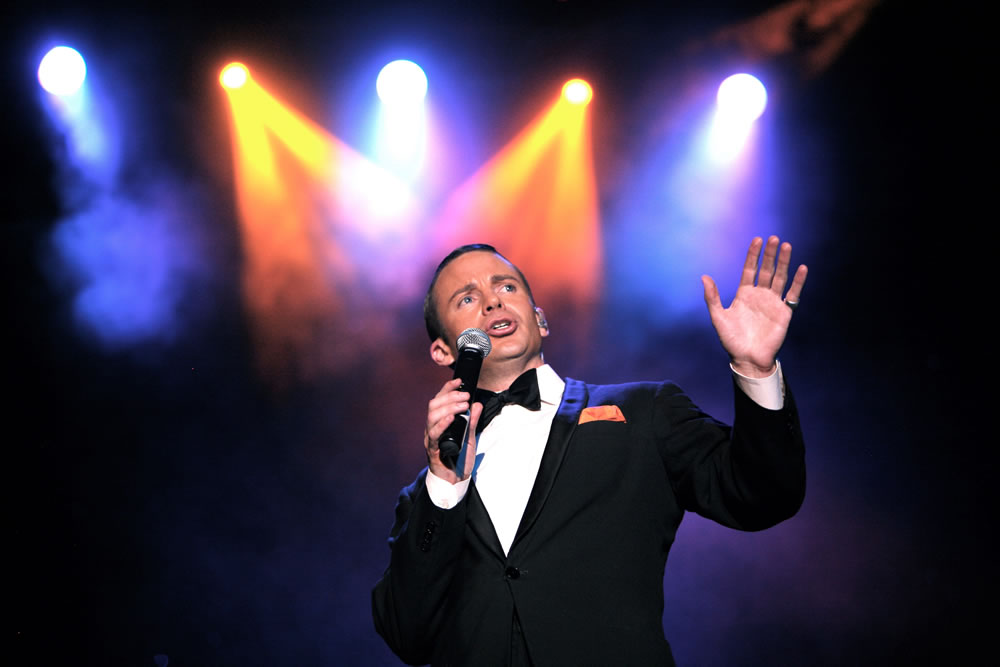 Singer Brian Duprey heads up a new Rat Pack!
By David Spatz – January 20th, 2020
The Rat Pack is back.
Truth be told, they never really left.
Okay, the core of stars that formed the Rat Pack — Frank Sinatra, Dean Martin, Sammy Davis, Jr., Joey Bishop and Peter Lawford — are all physically long gone.
But they left behind a treasure trove of memories, music, spontaneous comedy and anything else they could make up on the spot on the stage of the Copa Room, the legendary showroom at the old Sands casino in Las Vegas.
Although its core members were guys, the Rat Pack occasionally added unofficial "mascot members" like Shirley MacLaine, Juliet Prowse, Angie Dickinson and Marilyn Monroe.
Now, three ersatz Rat Packers – Frank, Dean and Sammy – are being joined by mascot Marilyn Monroe in a weekly show titled "The Rat Pack – Back in Town."
The show is presented 4 p.m. Sundays through April in the 2,200-seat Tropicana Showroom.
"It's been so many years since a 'Rat Pack' show has been done (in Atlantic City)," says Allen Valentine, the magician-turned-producer who's been crafting casino production shows for three decades.
"I think the last one (in Atlantic City) was at the Sands in the early 1990s, and it just felt right (to do it now)," Valentine says.
Valentine describes the music of Sinatra, Martin and Davis as "iconic" and "timeless." He says it hits all the right notes for the perfect casino show crafted for an older crowd.
"It's got powerful songs that speak to you emotionally, it's really fun and it's got a little bit of sex appeal with some of our dancers … and of course Marilyn (Monroe, for whom Sinatra carried an unrequited torch)," he explains. "It hits all those marks and it's just an elegant, feel-good show."
If there was a top dog among the original Rat Packers, it was obviously Sinatra. In "The Rat Pack – Back in Town," that role is sung and played by Brian Duprey, who was 13-years-old and going through puberty when his voice began to change.
"My mom had a cassette or something on, and I was singing to (Sinatra) and my mom ran into the room and said, 'Oh my God, you sound like Frank Sinatra,'" Duprey remembers. "I was baffled, because I wasn't a singer. I was just singing along and imitating him and it just kind of stuck because I had that baritone voice. It kind of fit me like a glove."
Still, the fact that he sounded like one of the world's greatest entertainers wasn't enough for him to change his career plans. He was always fascinated and drawn to the world of business.
He earned a business degree in college and eventually went to work for a New Jersey-based pharmaceutical company.
"That's when I decided I didn't like that lifestyle of working for a company and doing the 9-to-5 thing," he says, "It just didn't fit me."
It took the tragedy of 9-11 for Duprey, 45, to realize life was short and if he was ever going to make a major move, that was the time to do it.
So he moved to Las Vegas, took singing lessons and gradually began working the types of gigs that helped him climb the ladder to eventually land the Sinatra role in the long-running, look-and-sound-alike revue "Legends In Concert."
It was during those years when he first played Atlantic City. With a 13-year run, "Legends" was (and still is) the longest-running production show in Atlantic City casino history.
Duprey, whose wife, Jamie, performs in the "Rat Pack" show as Marilyn Monroe, has finally discovered a balance in his professional life. He agrees that making a major career move like he did at age 28 was something of a risk. But he needed to discover what his true calling was.
Turns out show business isn't such a bad gig after all.
"I like producing, directing, acting and singing. I like all sides of the entertainment business, but I still like (the) business (world)," he says. "I wouldn't mind owning a spa or a gym one day. I like dabbling in many different areas, so whatever is making me excited to get up every day and be singing or owning my own business, I'm all for that."
As he's done in the past with production shows at Borgata and Hard Rock – plus major casinos outside Atlantic City – Valentine's show is a one-and-done gig each week.
That presents a series of challenges, including how to make sure all the cast members – some of whom are scattered around the country – make it to Atlantic City by 4 p.m. Sunday to do a 90-minute show and then catch the next plane, train or automobile out of town.
"The (casino) market has changed over the years. When I first started 30 years ago producing shows in Atlantic City, we had a very healthy bus program. We had Greyhound busses lined up and down Pacific Avenue," he says. "But that's changed. Casinos can't (financially) support production shows that run five nights a week any more."
However, doing the shows on either side of the weekend – like Thursday at Borgata, or later Sunday afternoon at Hard Rock, where he's currently producing a show, the casinos can leave their Friday and Saturday nights open for headliners.
They're able to get more bang for their marketing buck. And it's not just in Atlantic City. This is happening at MGM National Harbor (near Washington, D.C.), Biloxi, Ms. and Twin River casino (in Rhode Island), all places where his company, Elite Casino Marketing, is presenting shows.
"It's the new trend for production shows," Valentine says.
Original article @ www.pressofatlanticcity.com
http://fuzion.com/wp-content/uploads/2020/02/bd.jpg
667
1000
Ruth Aron
http://fuzion.com/wp-content/uploads/2016/02/fuzion_white.gif
Ruth Aron
2020-01-20 15:41:46
2020-02-17 15:43:51
Singer Brian Duprey heads up a new Rat Pack!