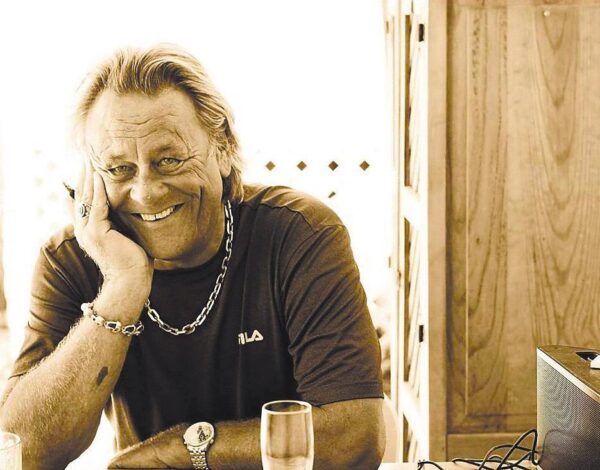 BRIAN HOWE, ENGLISH ROCK SINGER & WRITER, FORMERLY OF BAD COMPANY AND EX-LEAD SINGER WITH TED NUGENT, DEAD AT 66
May 7, 2020 – Lake Placid, FL: The dynamic voice first heard on Ted Nugent's "Penetrator" album, that led to Brian becoming the powerhouse vocalist and writer for the band Bad Company, before leaving to shape his solo career, died Wednesday. He was 66.
Howe's passing was confirmed by his longtime friend and manager, Paul Easton.
"It is with deep and profound sadness that we announce the untimely passing of a loving father, friend and musical icon, Brian Howe." stated Easton.
Howe was found in his home Tuesday morning, suffering from cardiac arrest. Though EMT's were able to have a short conversation with him, he slipped away, and they were unable to revive him.
"Finding the appropriate words to express the pain in our hearts over losing my brother has been difficult." stated his sister Sandie "Our family would like to thank you for your compassion and the outpouring of love we are receiving."
Born in Portsmouth, England, Howe's early career in the USA began with Ted Nugent. Atlantic Records was working on Nugent's new album and heard Brian's voice coming out of an associate's office. They loved his style and sound and signed him to become the lead singer for Nugent's "Penetrator" album. "Penetrator" was Nugent's eighth studio album and reached #56 on Billboards top 200, with "Tied Up In Love". Brian played with Ted Nugent for a couple of years before he was being considered for yet another iconic band at Atlantic Records.
A re-teaming was taking place with a familiar band at Atlantic and Howe quickly found himself as the lead singer for the legendary band, Bad Company. With Paul Rodgers gone, Brian's vocal style and song writing talent brought the resurgence Atlantic was looking for.
Reflecting the musical style of the mid-80s, the first album found moderate commercial success. But things were about to change. As the band came together, they came alive in 1988 with the next Howe-era album, "Dangerous Age", spawning several MTV videos and the AOR hits "No Smoke Without A Fire" (#4), "One Night" (#9) and "Shake It Up" (#9, also No. 89 on the Singles charts). The album went Gold and hit the Top 60. An accomplishment for Howe that carried his talent to the next level with the release of the band's next album, "Holy Water", released in 1990. The album was enormously successful both critically and commercially, attaining Top 40 and Platinum status by selling more than one million copies.
Holy Water spun off the singles: "If You Needed Somebody" (#16), the title track "Holy Water" (#89) and "Walk Through Fire" (#28). "Holy Water" also hit No. 1 for 2 weeks on the AOR charts with "If You Needed Somebody" reaching No. 2. Given the success of "Holy Water" and Howe's extraordinary vocal ability the band continued with the final studio album of the Howe era, "Here Comes Trouble", featured the Top 40 hit "How About That" (#38) and "This Could Be The One" (#87). The album went Gold.
Howe left the band in 1994 and forged his solo career, experiencing a successful musical impact. He released his memorable albums, "Tangled in Blue", "Emotions", "Circus Bar", and his self-titled "Brian Howe The Collection". In 2018, his single "Hot Tin Roof" received the prestigious Hollywood Music in Media Awards award for Best Rock Song of the Year.
Prior to his death, he was on tour with his band Paul Warren, Christopher Turnbow, Miguel Gonzales and Rick Brothers before the industry shut down due to COVID-19. He looked forward to picking up his stage performances as soon as soon as it was feasible.
"I feel we are all put in this world for a reason" stated his son Michael. "The passion for music was my father's, and I am so happy that his legacy will live on."
Over the decades of creating music, Brian's passion extended to his love for animals. This included his great support of Have A Heart Animal Rescue, to find animals in need, loving homes.
Brian never stopped writing songs and has defined an era of Rock that has become his legacy. He is survived by his sister Sandie and her husband, his son Michael and daughters Victoria & Ella, along with 3 grandchildren Kira, Alexandria, and Aurora. 
Visit www.brianhowe.com to learn more about Brian.
http://fuzion.com/wp-content/uploads/2021/11/brian_howe.jpg
470
600
Ruth Aron
http://fuzion.com/wp-content/uploads/2016/02/fuzion_white.gif
Ruth Aron
2020-05-20 13:29:36
2021-11-08 13:32:00
BRIAN HOWE, ENGLISH ROCK SINGER & WRITER, FORMERLY OF BAD COMPANY AND EX-LEAD SINGER WITH TED NUGENT, DEAD AT 66