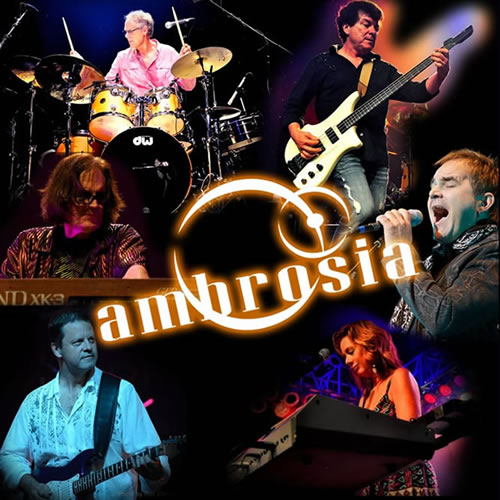 "With a solid set list and captivating performance, it was evident that Ambrosia still has a lot in the proverbial rock tank" — Music Enthusiast Magazine

"With great harmonies and an energetic sound, Ambrosia got the crowd going right away and wowed the audience from start to finish". — Examiner
[toggle_container keep_open="true" initial_open=""]
[toggle title="About AMBROSIA"]
In the year 1970, four young musicians from the South Bay of Los Angeles, came together to create a new invigorating style of music.
Exploring the possibilities of progressive classical and world influences, yet rooted with the soul of the blues and R&B, Joseph Puerta, Christopher North, David Pack, and Burleigh Drummond created a new sound that was defined and recognized as, "Ambrosia".
Originally labeled as America's answer to the progressive invasion of such English acts as "Yes" and "King Crimson", the group quickly proved it was all that and much more as its albums painted aural landscapes covering the gamut of musical styles and attracting the collaboration of such cultural icons as, Leonard Bernstein, Kurt Vonnegut Jr. and Alan Parsons.
In its brief recording history, Ambrosia garnered 5 Grammy Nominations, 5 Hit Singles, Heavy FM Airplay, and the admiration and respect of the musical community. All this was in addition to Sold Out concerts around the world.
Today the band is more alive than ever. The band recently rocked the Jimmy Fallon show with accolades from Jimmy himself ("that's how you do it!") and has shown it's musical versatility with the ability to play a prog set of music with Yes and Genesis or glide into their pop hits "How Much I Feel and Biggest Part of Me" with a romantic soul. With three of the four original members in tact plus the addition of the very talented and inspiring Ken Stacey on acoustic guitar and amazing lead vocals, Mary Harris on soulful keys and vocals, and the six string ace Doug Jackson on electric guitar and vocals.
The group is well into the recording of a new CD and continues to tour throughout the world delighting audiences everywhere they perform.
Ambrosia wants to thank its fans for 43 years of musical support and give a promise for much more great music to come.
Click here for a recent video of Ambrosia performing.
All the best to you from…
Ambrosia
[/toggle]
[toggle title="Some live feedback…"]
"I left the show stunned by the vocal abilities of Ken Stacey. The man can hit some high notes and hold them !!!" — Real Rock News
The band's songs were done so precisely; they were receiving standing encores after every song during the show!" — Randy Ellis, The Record Collector Concert Series
"With a solid set list and captivating performance, it was evident that Ambrosia still has a lot in the proverbial rock tank" — Music Enthusiast Magazine
[/toggle]
[toggle title="More AMBROSIA videos…"]
Ambrosia History Video
Holding On To Yesterday - 1976
How Much I Feel - 1978
Biggest Part of Me - 1980
You're The Only Woman - 1980
How Much I Feel - 2011
[/toggle]
[/toggle_container]