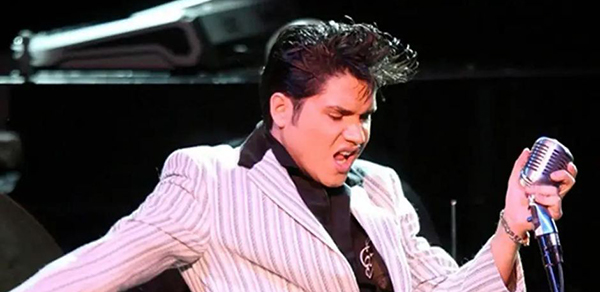 MSMT closes its concert series with sold out performances.
By: Carla Maria Verdino-Süllwold July 31, 2023 from Broadway World.
For two brief hours in Brunswick, Maine, the king of rock 'n' roll seems to come to life again on stage at the sold out (waiting list only) concert, KING IN CONCERT, as Victor Trevino, Jr. re-creates the vocal and physical charisma of Elvis Presley in a high energy, kinetically seductive performance.  His evening featuring Elvis' most beloved hits successfully captures the visceral magic of the man who is arguably the most important and revolutionary figure in popular music in the 20th century.
Elvis's music has its roots in an African American sound – in Gospel, blues, and country – all fused together with a groundbreaking beat. Trevino's playlist gives a wide-ranging  account of Elvis's development as a singer, the breadth and appeal of his repertoire, from the wild rock numbers to the tender ballads.
Trevino maintains a distance between "Victor" and "Elvis,"  talking about the legendary singer in the third person with an air of humility and making it clear that this is a tribute performance.  The separation works to excellent effect because when Trevino launches into song and dance, the transformation is all that much more complete. As an Elvis interpreter, Trevino has mastered not only Elvis' velvet, silky baritonal  vocal range, but also his gyrations, gestures, signature poses, his guitar playing and his plainly provocative performance.
More info on Victor Trevino can be found here.