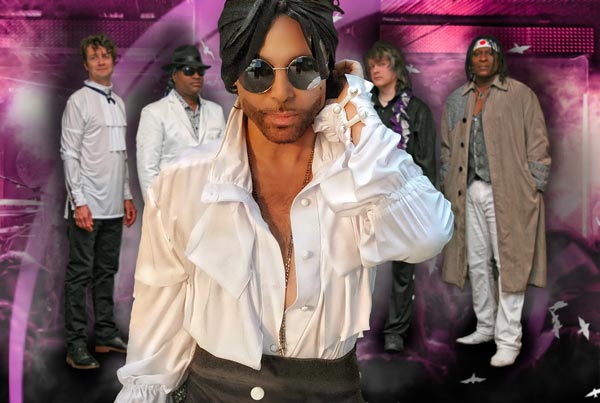 From New Jersey Stage –
(COLLINGSWOOD, NJ) — Scottish Rite Auditorium presents Marshall Charloff & The Purple Xperience on Friday, January 12, 2024 at 8:00pm. This is the most celebrated tribute to Prince in the world. The group was co-founded by Marshall and Matt "Doctor" Fink (keyboardist from Prince & The Revolution) in 2011, an era where Prince closely monitored the use of his art. Their vision was to deliver Prince's music on the highest level, played live and untracked by skilled musicians while paying respectful visual homage through costuming and likeness.
Immediately met with success and adoration from discerning Prince devotees, the band has now been touring for over a decade, nationwide and internationally, and has performed for over 500,000 fans. In 2019, they were officially licensed by the Prince Estate, and in 2021, Marshall Charloff & The Purple xPeRIeNCE were selected by the US Department of State to be featured in the USA Pavilion of the World Expo in Dubai.
Minneapolis-native Marshall was raised in the epicenter of 1980's music production, and cut his musical teeth working with Superproducers John Fields and Steven "Funkytown" Greenberg. At age 19, Marshall, like Prince, was discovered and signed by producer Pepe Willie. Marshall is featured on 94 East albums with Prince, where he plays guitar and Prince is on vocals. A multi-instrumentalist, composer, and producer in his own right, Marshall has written for, produced, and recorded for the multi-Platinum and Grammy award-winning Commodores and for Rock & Roll Hall of Fame's Little Anthony & The Imperials. Marshall's second original album, "Unperfect" achieved the distinction of "Top 100 Albums of 2020" on global smooth jazz charts. Marshall has also played keys for the Atlanta Rhythm Section, and has played bass guitar with Bobby "Z", Matt "Dr. Fink", and Andre Cymone (all Prince alumni players).