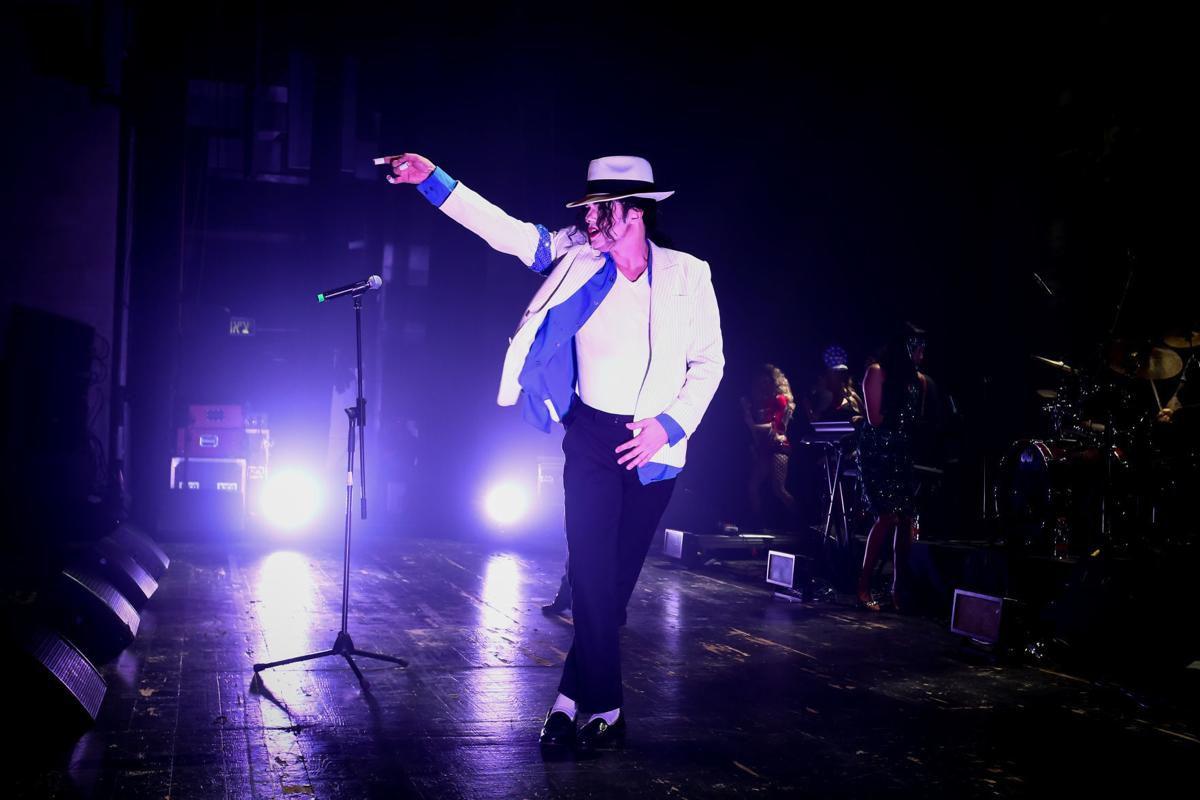 Michael Jackson tribute coming to Missouri Theater
By Andrew Gaug News-Press NOW Oct 31, 2019
More than a decade after his death, Michael Jackson's legacy lives on and inspires future generations of performers.
• • •
Helping to keep that legacy alive is Michael Firestone, the performer in the Michael Jackson tribute show "I Am King — The Michael Jackson Experience."
The show has presented Firestone with numerous opportunities to pay tribute to Jackson, being chosen as one of two official Jackson impersonators for the "Michael Jackson Laser Spectacular" shows in theaters and casinos all over the United States and Canada. He's also been featured at events for MTV and Larry The Cable Guy.
Like many in the '80s, Firestone was captivated with Jackson through a series of performances and music videos.
"My first memories of seeing MJ were in the 'Rock with You' video, his Motown 25 performance, the 'Thriller' video and his 'Billie Jean' performance. Those really stuck with me," he told DNA India.
A student of channels like MTV in the '80s, Firestone said he was enthralled by the superstars of the time.
"I really studied very talented performers and just pretended to be them. Prince, Michael Jackson, Stevie, those guys are talented, I'm just a copycat," he told I Am Queen Magazine.
For Jackson specifically, he would watch his videos and emulate his moves.
"I practiced to his videos. I'd also record myself and replay the videos to see how I was progressing," he said.
As he improved, he started performing the songs and moves at events, talent shows and parties. It caught on enough to net him performances in Las Vegas and, later, a cruise line contract.
"At 18, I was offered my first professional job as a Michael Jackson tribute artist at a casino in Las Vegas," he said.
The job led to him creating the tribute show that has now toured around the world.
When Firestone performs Jackson's hits like "Human Nature" and "Stranger in Moscow," he said he feels like he's keeping the star's spirit alive. While he does drop the persona at times during the show, he likes to maintain the illusion for most of it to please those who didn't get to see Jackson live. To note, the final time Jackson performed in Missouri was 1988 at Kemper Arena.
"They are MJ fans. And I hope to put on a concert making them feel like they are back in time and remembering MJ," he said.
Performing those intricate moves and singing those difficult vocal parts of songs like "Thriller" and "Bad" is often taxing.
"Performing night after night starts to get difficult. I have to take care of my voice in between performances and warm up properly," he said.
During the time Firestone has been performing as Jackson, he's also had his fair share of questions concerning Jackson's offstage behavior. Earlier this year, the HBO documentary "Leaving Neverland' had two men accuse Jackson of sexually abusing them as children. Firestone said he doesn't believe those statements were made in good faith.
"MJ is not even alive to defend himself. It is most definitely unfair to discredit anyone's work until all claims are proven," he told the Business Standard.
Firestone met Jackson once in 2002 and said he was cordial and supportive of the tribute show.
"We spoke then, and a few weeks later he called and we talked for several hours on the phone. It was eye-opening and inspirational and, of course, a dream come true to get such a phone call," he told the Business Standard.
Jackson's support was one of the many reasons Firestone has been paying tribute to him for about 20 years.
"I wrote 'I Am King' and I wrote it to flow in such a way that it brings you up. The show is named 'I Am King' not because I think I am king … It is because Michael Jackson is king and I will continue bringing the magic and music of Michael Jackson to venues worldwide for as long as I possibly can. There will never be another MJ," he told the Business Standard.
Tickets for "I Am King — The Michael Jackson Experience" are $24 to $45 and $12 for students. They can be purchased at the Performing Arts Office, 719 Edmond, or by calling 816-279-1225 or online at www.saintjosephperformingarts.org.
— Andrew Gaug | St. Joe Live
Original article @ www.newspressnow.com

https://fuzion.com/wp-content/uploads/2020/02/mj1.jpg
800
1200
Ruth Aron
http://fuzion.com/wp-content/uploads/2016/02/fuzion_white.gif
Ruth Aron
2019-10-31 13:30:00
2020-02-17 15:53:33
Michael Jackson tribute coming to Missouri Theater