Beatles vs. Stones at Genesee puts popular 60s bands up for a vote
Back in the day, you could ask someone "What's your sign?" or you could ask "Beatles or Stones?"
Local audiences can decide this age-old question for themselves when "Beatles vs. Stones" performs at 7:30 p.m. Nov. 23 at the Genesee Theatre in Waukegan. That's when Rolling Stones tribute band Jumping Jack Flash squ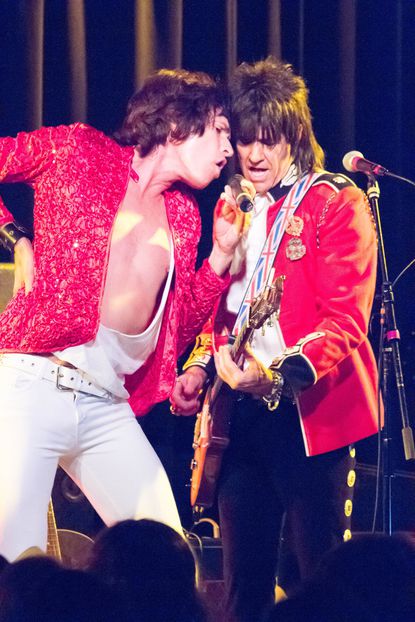 ares off against 4 Lads from Liverpool in an ultimate Beatles vs. Stones showdown.
Young Hutchison stars as Keith Richards in Jumping Jack Flash. He created the show 15 years ago.
"The interesting thing about the whole premise is the passion people still have for this music 50 years on and people really care and they're passionate, as was the case in 1964," he said.
"You had to be a Beatles or a Stones fan — not both. That's still kind of the case. As the performers, we don't particularly care because at the end of the night the audience chooses who won with the noise that they make. And we don't take it personally as performers. The point of the whole show is that they do care and that's why they show up."
Audiences will get to hear two amazing songbooks back to back and against each other, Hutchison said.
"Fifty years later, people are still yelling and screaming for these songs. We love it," he said. "Which is interesting, because The Beatles only existed for five years as a group in the public eye. But their legacy is now going on 50 years."
The bands play six alternating mini-sets that move the timeline along, complete with British accents, elaborate costumes and onstage banter culminating in a finale with both bands on stage playing a mash-up of their biggest hits. Then the audience gets to vote on which band "wins."
"When you think about it, in the case of the Rolling Stones, there's 50 years of wardrobe and hairstyle changes and fashion changes," he said. "Figuring out how to encapsulate that into a 90-minute show, half of which The Beatles are onstage, was a neat trick. I think we've done a good job of it and we take the audience along for the ride. And again, the audience was there, too. The audience remembers dressing like that and wearing their hair like that."
They switch up the set lists from show to show to keep things fresh for themselves, he said "It's hard because if you put somebody's favorite song in you're going to make 1,000 other people sad because you didn't play their favorite hit," he said. "Each band has 400, 450 songs to choose from."
Even after 15 years, there are songs he never gets tired of playing, like "Jumping Jack Flash."
"It remains so much fun because it has such an impact on the audience," he said. "The audience is so lit up from night to night."
The group 4 Lads From Liverpool includes an original member of the Beatlemania cast who also played with 1964 the Tribute, Beatlemania Now and Rain.
As for his own band, "all the guys are very busy with music," he said.  "Our singer is actually a career bassist with a number of other groups but he stepped into this role eight years ago. And he's really something," Hutchison said. "It's fair to say the audiences have no idea what they're in for. It includes pretty elaborate onstage media. The energy level is pretty insane."
They love to meet audience members after the shows too — and they learn a lot that way, too.
"People will tell us things that they noticed or did or didn't like and that can affect changes we make in the show," he said.
At the end of the day, audiences are going to be treated to the soundtrack of their lives, he said.
"The two greatest bands contrasted with each other in direct, immediate, back-to-back mini sets … it's pretty thrilling," he said.
Annie Alleman is a freelance reporter for the News-Sun
Link to original article.
https://fuzion.com/wp-content/uploads/2016/02/beatles_vs_stones-2.jpg
360
990
Ruth Aron
http://fuzion.com/wp-content/uploads/2016/02/fuzion_white.gif
Ruth Aron
2019-11-13 14:37:59
2019-11-25 12:03:37
Beatles vs. Stones at Genesee puts popular 60s bands up for a vote