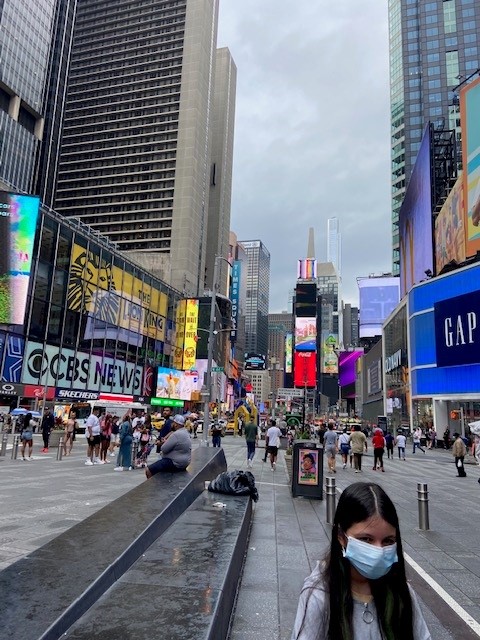 Broadway will remain closed for at least the rest of this year, and many shows are signaling that they do not expect a return to the stage until late winter or early spring.
The Broadway League said Monday that theater owners and producers will refund or exchange tickets previously purchased for shows through Jan. 3. Given the unpredictability of the coronavirus pandemic that has prompted the shuttering of Broadway, the League said it was not yet ready to specify exactly when shows will reopen.
"Returning productions are currently projected to resume performances over a series of rolling dates in early 2021," the League said in a statement. Among the logistical issues industry leaders are discussing with government and medical officials: "screening and testing, cleaning and sanitizing, wayfinding inside theaters, backstage protocols and much more."
"I'm cautiously optimistic, with the latest information that we're getting from scientists and medical professionals, that we're getting close to some protocols that would work in New York and on the road," Charlotte St. Martin, the League's president, said in an interview. "As long as they hold up, I do think that after the first of the year, a rolling rollout of shows reopening is possible."
St. Martin said that the rising levels of coronavirus cases in some parts of the country reinforced the industry's cautious approach. "Frustration goes by the wayside when you're talking about risking people's life or health," she said.
Broadway shows went dark on March 12, and already this has been the longest shutdown in history. At the time, there were 31 shows running, including eight still in previews; another eight were in rehearsals before beginning previews.
Thus far three shows, the Disney musical "Frozen," which had opened in 2018, a new Martin McDonagh play called "Hangmen," and a revival of Edward Albee's "Who's Afraid of Virginia Woolf," both of which were in previews, have announced that they will not resume performances when Broadway reopens.
Several producers have indicated that they are looking several months into the new year for a resumption of Broadway shows. The earliest date chosen thus far is for "The Minutes," a new play by Tracy Letts, which hopes to open March 15. A revival of "American Buffalo," a play by David Mamet, is aiming for April 14; "MJ the Musical," a new show about Michael Jackson, says it will open April 15, and "The Music Man," a revival starring Hugh Jackman, plans to open May 20.
Several other shows have said they plan to open next spring, but have not announced exactly when, including a revival of Neil Simon's "Plaza Suite" starring Matthew Broderick and Sarah Jessica Parker, as well as Lincoln Center Theater's new musical, "Flying Over Sunset," and Roundabout Theater Company's revivals of the musicals "1776" and "Caroline, or Change."