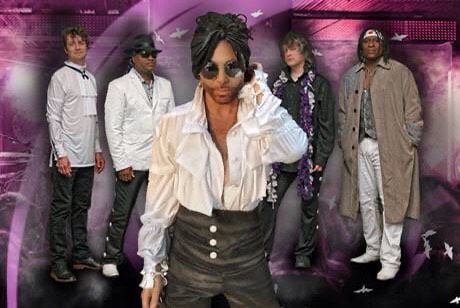 Purple Xperience Bringing Prince Tribute To NPAC
By LISA WARREN Sun Correspondent
Musical legend Prince was much more than a 1980s hit maker.
Yes, the singer/songwriter produced a slew of mega hits, such as "Little Red Corvette," "Kiss," Raspberry Beret," "When Doves Cry," "U Got the Look" and "Purple Rain," just to name a few. But Prince was also a musical influencer, who blended together funk, rock and R&B — along with generous helpings of synthesized pop, soul and hip-hop — to form his own signature sound and inspire new generations of musicians.
Born Prince Rogers Nelson on June 7, 1958, in Minneapolis, Minnesota, Prince became one of the best-selling artists in music history with more than 150 million records sold, according to Billboard magazine.
His seventh album "Purple Rain," released in 1984, propelled him to superstardom, but the artist released a total of 39 albums. What's more, as a songwriter, Prince also wrote a string of hits for other artists, including "Manic Monday," a major chart topper for The Bangles, as well as Sinead O'Connor's signature hit "Nothing Compares 2 U."
Prince died in 2016 at the age of 57.
Like many teenage music fans back in the 80s, Marshall Charloff was swept up by the artistry of Prince.
What's more, Charloff, who grew up in Prince's hometown of Minneapolis, was also blessed to be a first-hand witness to the birth of the Prince phenomenon. Charloff not only had opportunities to watch Prince perform live, but he also became personally acquainted with the superstar when, at age 18, he began performing in a band with one of Prince's cousins.
Today, Charloff is continuing to keep the music and legacy of Prince alive through a tribute band called the Purple Xperience.
The project, which labels itself as "the most authentic and awe-inspiring celebration of Prince in the world," was founded in 2011 by Charloff, along with Dr. Fink (Matt Fink) who was an original member of Prince's backing band The Revolution.
On Jan. 29, Charloff and the Purple Xperience will be in Greeneville for a performance at the Niswonger Performing Arts Center. Show time is 7:30 p.m. A limited number of tickets still remain available.
In a recent phone interview, Charloff spoke about his respect for Prince's musical artistry and how he is excited to be returning to the State of Tennessee to share his love of Prince with fellow fans of the late artist.
"Tennessee has music everywhere," Charloff said of the Volunteer State. "I've been there many times," he said noting that, among his stops, he has performed with the Nashville Symphony Orchestra as well as at the Tennessee Valley Fair in Knoxville.
Prior to his upcoming show in Greeneville, Charloff will present a solo performance on Jan. 22 at the Bartlett Performing Arts Center, located near Memphis.
At this show, Charloff will present his one-man Prince tribute performance, which he developed back in 2020, in response to the covid pandemic, when, he noted, many music venues found themselves "on life support."
Venues were "at like 20 percent capacity and they couldn't afford full production shows, or, in some cases, any production period," Charloff said. "That's where my show was attractive to them. I was one guy showing up with his piano."
He based his one-man show off of Prince's "A Piano and a Microphone Tour," which was the artist's last concert appearances before his sudden death in 2016.
The solo tribute show became so popular that Charloff soon landed a residency in Las Vegas for five months.
While the Prince fans in Greeneville will be receiving the full-band Purple Xperience, Charloff said there will also be a segment of the show dedicated to a solo performance with him and the piano.
The full-band Purple Xperience was formed prior to Prince's death — and the tribute band even received blessings from the artist himself.
Charloff said the origins of Purple Xperience began in 2011 "when we were invited to do a show at the Rock and Roll Hall of Fame and perform some of Prince's songs."
The group wasn't a Prince tribute band at that point, though, he noted.
"After that show, we said, 'Hey, what about doing more of these types of shows? That was really fun!'"
Charloff said he told Matt Fink that he would love do it, but only if Prince agreed to it.
"I told Matt, 'He's your boss. Is he going to be cool with it? If he is, then I'll do it. If he's not, then I won't.'"
Fink met personally with Prince to discuss the Purple Xperience idea and the project was given the green light by the artist.
"Prince believed that people needed the freedom to work and to earn," Charloff said. "It was how he was brought up. His only comments were that he wanted the musicianship to be of the highest level. There is a legacy that needed to be protected, especially since Matt was part of the Revolution.
"There is high scrutiny and a higher bar when you have an original member of Prince's band playing keys for you," Charloff said.
"Prince also wanted it not to be about the costuming and all of the theatrics. He wanted it to be about the music — and be the highest levels of musicianship — and for us to take it seriously," Charloff added.
Today, the Purple Xperience has been together for 11 years and has shared the stage with such bands as the Atlanta Rhythm Section, Cheap Trick, Cameo and The Time.
"We have a level of comfort and playing off one another that only happens when you've been playing together for a very long time," Charloff said.
He describes the band as very "high energy."
He said they give the casual Prince fans the hits that they want, but they also delve deeper into Prince's musical repertoire and perform some of his lesser known songs from his early albums as well.
"We try and sneak those in a little bit. We know our hot spots in the country where the Prince fans want to go beyond the radio hits," he said.
In addition to playing the guitar and piano, Charloff brings to the stage many of Prince's signatures moves, which he says are all organic on his part.
"Nothing is premeditated," Charloff said. "I guess through watching Prince live and through videos for so many years, there is an energy that I channel when I'm onstage. I don't think about it and I think that keeps the show authentic and natural."
Charloff went on to stress that everything about the band is real from the vocals to the musicianship.
"Often tribute bands use pre-recorded tracks, but we don't use anything pre-recorded," he said. "Everything is us, including the vocals."
In the solo piano show, Charloff says it feels as if he is "walking a tightrope with no net. It's just me and the piano. There is nowhere to hide. I do over 30 songs in that show. It's very intimate, but there's still high energy and fun and audience participation. We have a great time."
So is there a Prince song that Charloff enjoys performing live more than others?
With a laugh, he said, "The only reason I'm going to say 'Purple Rain' is because it's the obvious one. It's an anthem that brings people together. You see and feel so many emotions from the audience when you perform it.
"It's one of the most powerful moments of the night … and I don't take that for granted. It's not lost on my how powerful that song is."
Original Article
Tickets for the Purple Xperience at Greeneville's NPAC are available for $35 orchestra, $30 mezzanine and $25 balcony levels. For more information, call the box office at 423-638-1679 or go online to npacgreeneville.com .
http://fuzion.com/wp-content/uploads/2022/01/pxnpac.jpg
308
460
Ruth Aron
http://fuzion.com/wp-content/uploads/2016/02/fuzion_white.gif
Ruth Aron
2022-01-19 11:48:34
2022-01-19 11:48:59
Purple Xperience Bringing Prince Tribute To NPAC