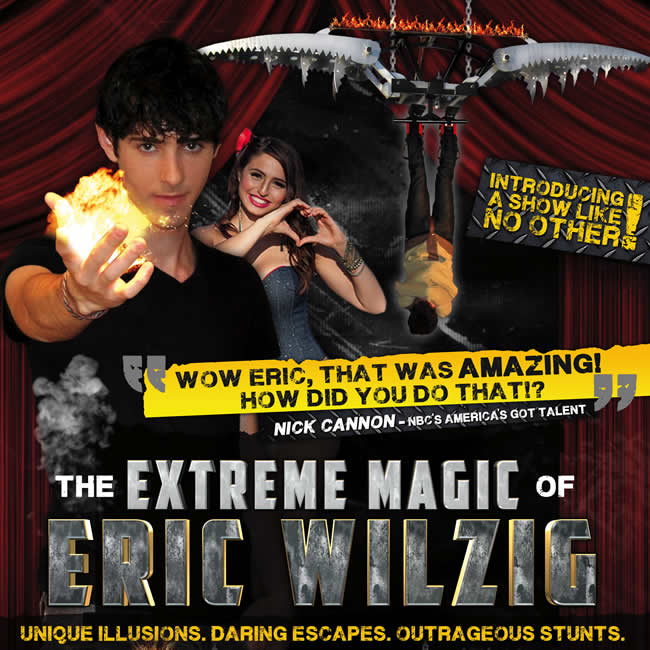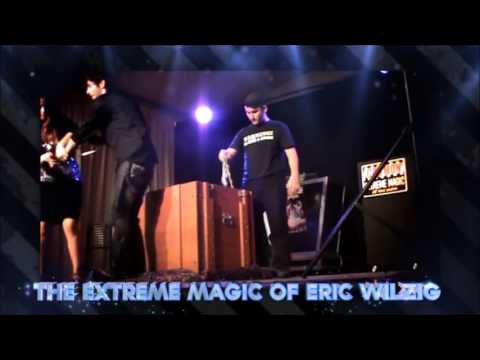 Eric Wilzig is one of the most sought after and in-demand illusionists!
Already with over 2,500 national and international performances to date —— including appearances on NBC's hit TV show "America's Got Talent," sold-out shows at The Tropicana and Caesars Hotel & Casino, headline acts in Times Square, Europe, Canada and the Caribbean —— Eric is considered, at the age of 23, the hottest rising star in the magic industry.
[toggle_container keep_open="true" initial_open=""]
[toggle title="About Eric Wilzig!"]
Known during his childhood as the "little entertainer," Eric's fascination with the art of magic began at five years old with a coin trick his father had brought home. Fast forward to age 10, when Eric received a standing-ovation for his magic act from a packed house onboard Royal Caribbean's "The Explorer of the Seas" cruise ship. It was at that point that Eric realized magic wasn't going to just be his hobby, but his life!
At age 12, The Extreme Magic Of Eric was born with Eric creating the name, the tone, the presentation and make-up of this award-winning show. Learning directly from David Copperfield, Criss Angel, and other masters of illusion in Las Vegas, Eric has continuously reshaped and modernized his performance to become a world-wide wonder receiving rave reviews wherever he goes. Combining an explosive mix of large cutting-edge illusions, mind-blowing daring escapes, outrageous stunts, customized lighting, and special effects, The Extreme Magic of Eric is truly a one-of-a-kind traveling illusion show … bringing a major theater-style quality to ANY event and venue!
Eric has been the recipient of a multitude of awards, most notably the prestigious "Tannen's Stage Magic Champion." Celebrity host Nick Cannon proclaimed his magic on "America's Got Talent" as "Simply Amazing!"; former NBA superstar Shaquille O'Neil declares Eric's show to be "like no other!";  and TV actress Kelly Rutherford describes Eric and his show as "charming, energetic, with incredible illusions." And his close-up, sleight-of-hand magic is truly amazing, too, always performing the unusual to ensure a wow factor never before seen.
From colleges, camps, and corporate events to hotels, theaters, performing arts centers, and private parties, Eric has done it all! With multiple tours across the country performing for hundreds of thousands of people,The Extreme Magic Of Eric guarantees cool unique magic that audiences won't soon forget!
Recently Eric graduated college summa cum laude (top honors!) with Bachelors of Science degrees in both Finance and Marketing. Now dedicated full time to his craft, Eric is currently touring and performing with the most intriguing and innovative grand illusions in the world and with a style unlike any other magician! He's one of the best magicians for hire in NYC, New York, Long Island, New Jersey, Connecticut, Pennsylvania, and nationwide! Book now — The Extreme Magic Of Eric is ready to entertain your guests whatever and wherever your event may be!
[/toggle]
[toggle title="What people are saying…"]
"Wow Eric, that was amazing! How did you do that!?"— NBC's, America's Got Talent
"If you're looking for a show like no other… This is it!" — Shaquille O' Neil, former NBA All-Star Player
"You've made magic cool! You blew me away" — Carla Marie, Z100 Elvis Duran Morning Show
"Charming, energetic and incredible illusions!" — Kelly Rutherford, TV Star and Actress
"The best and most unique show that hit our campus in years!" — Rutgers University Newspaper
"Your illusion at Citi Field was stunning!" — Erin Bailey, Events at Citi Field
"Our guests can't stop raving about your magic!" — Isaac Mizrahi, Isaac Mizrahi New York
[/toggle]
[toggle title="Videos"]
[/toggle_container]