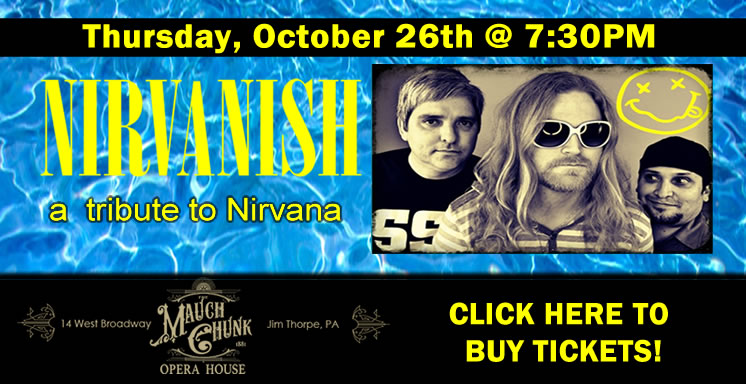 ONE NIGHT ONLY! Thursday, October 26th 2017
Get your tickets today!  click to buy tickets!
Don't miss NIRVANISH Featuring reality TV Star Joey Gnoffo on drums @ The Mauch Chunk Opera House in Jim Thorpe, PA!

Replicating the audio integrity of Nirvana's recorded work while capturing the electric fury the group was known for is what makes Nirvanish the quintessential Nirvana tribute show.
You can expect to hear the well known singles for the passing fan, along with deep cuts for the die-hard grunge rocker and everything in between.  Nirvanish is sure to bring the raw live experience for the many fans that didn't have the opportunity to see the legend in person.
[toggle_container keep_open="true" initial_open=""]
[toggle title="More Videos!"]
@ The Gas Lamp, Long Beach, CA

[/toggle]
[toggle title="RIP Kurt Cobain"]
"Punk is musical freedom. It's saying, doing and playing what you want. In Webster's terms, 'nirvana' means freedom from pain, suffering and the external world, and that's pretty close to my definition of Punk Rock".—Kurt Cobain
20 Songs that Influenced Kurt[/toggle]
[/toggle_container]