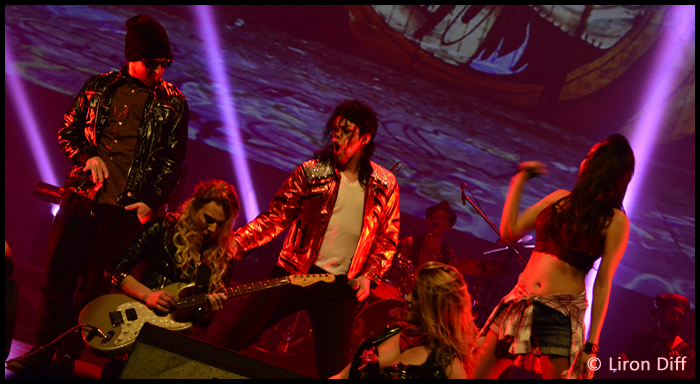 Man in the Mirror Arrives in Israel
Michael Jackson's name and legacy have been further tarnished in recent days following the allegations of sexual abuse of minors revealed in the Sundance Film Festival entry Leaving Neverland.
But that hasn't seemed to affect Jackson's popularity in Israel. It was all cheers and adulation on Monday night when the I Am King Michael Jackson review from Las Vegas made a stop on its month-long tour of the country in Ma'aleh Adumim.
The near-sellout crowd treated singer/dancer Michael Firestone and his glitzy, entertaining revue as if he were the king of pop, but without all the baggage.
Possessing an uncannily similar physique and singing voice to Jackson, and – thanks to prodigious makeup and hair piece – an eerie likeness, Firestone dazzled the audience with a spot-on performance that showcased his Jackson-inspired nimble dance steps and memorable repertoire.
He was backed by a spunky band, four talented dancers and numerous costume changes, evoking the atmosphere of a stage show, rather than a concert. At times, the cleavage and exposed skin factor of the female dancers jiggled toward burlesque, and coupled with Firestone's frequent crotch grabs, cemented this as a show that might require some parental guidance.
On the other hand, the kids that were there became participants, being brought up onstage for some amateur moonwalk efforts and singalsongs.
Strolling through the audience during "Black and White," Firestone was treated like a superstar, posing for selfies with Jackson fans and mugging for the crowd.
We love our heroes, and if they are far from perfect in real life, onstage they make up for it – even if it's not really them.
—– The Jerusalem Post
https://fuzion.com/wp-content/uploads/2019/04/mjbeatitb.jpg
384
700
Ruth Aron
http://fuzion.com/wp-content/uploads/2016/02/fuzion_white.gif
Ruth Aron
2019-02-06 10:45:59
2019-04-16 10:59:22
Man in the Mirror Arrives in Israel