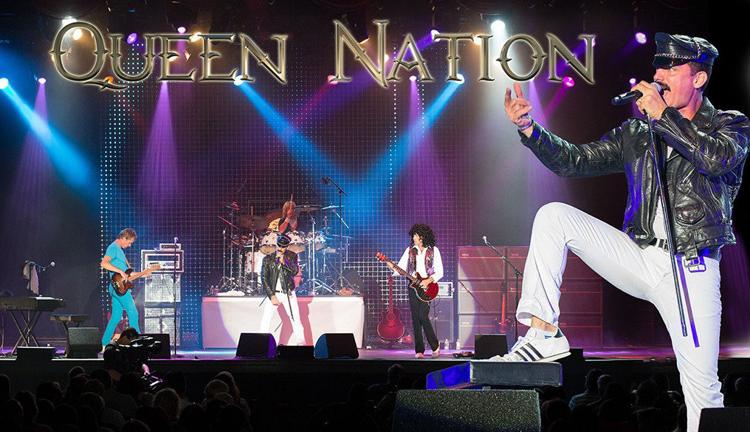 A good time to be Queen: Nation's top tribute band plays Anchorage Friday night
The 2018 release of the film 'Bohemian Rhapsody', a biopic about legendary Queen frontman Freddie Mercury, was a roaring success both critically and at the box office.
Among the beneficiaries of this reexamination of the 70s and 80s band that established stadium rock and operatic styles in rock is Queen Nation, America's premier Queen tribute band, which visits Alaska for a pair of shows this weekend, Friday night at the Alaska Native Heritage Center on Friday and the Tanana Valley Fair on Saturday.
"I was excited to see it when it was finally coming out," said Gregory Finsley, the Freddie Mercury of Queen Nation. "We cried, we laughed, it was the best time, so emotional. I gave it a B-plus because there were some chronological issues that didn't work out and there were a few people left out. I've seen it three or four times since then."
Finsley said the release of the movie has certainly added to demand for his group, but it had been on the rise in recent years anyway.
"It's timeless music that's going into retro" Finsley said. "We had 107 shows last year and amped it up to 139 shows this year, which is 3 to 4 shows every week — a very tall order. The movie has done well for us. There's a lot of retro kids and teens wearing Queen shirts, people wearing moustaches. It's overwhelming and we enjoy it. Our show is all ages and we play parks and casinos and private parties. It's been a real blessing, but (Queen's) music is timeless like Fats Domino, Ray Charles — you'll always know them."
For Finsley, it was appropriate, maybe pre-ordained that if he was going to be part of a tribute band it would be a Queen tribute band.
Growing up in the Dallas area, 11-year-old Gregory Finsley saw Queen live in Fort Worth and was instantly hooked on the dream of becoming a rock star like Freddie Mercury.
"He was dressed in a diamond coat, no leather, no moustache, he was just this rock Superman guy," Finsely recalled. "I was playing drums and singing as an 11 year old and I was overwhelmed. Wow! This is what a rock concert is."
After pursuing a musical career in the French Quarter and making ends meet as a private gardner, Finsley ended up back in Dallas where he worked in a music shop.
"Brian Harris, an amazing guitar player heard me singing 'Somebody to Love' and he thought it was the radio and he thought we should put together a tribute band called 'Queen for a Day'. God almighty, I never thought anyone would want to do that," Finsley said. "We played in Downtown Dallas and blew the doors off of places."
Finsley's cousin, a set designer in Los Angeles caught wind of a Queen cover band forming there that was in need of a singer. "They busted me out an email and said we'd like to send you out to the Napa Valley Fair," Finsley said. That was in 2007, and Finsley has portrayed Freddie Mercury for Queen Nation ever since.
"It's a great occupation — I don't even consider it a job," Finsley said. "We just had one of our best shows in a long time with 6,000 people and just two weeks ago had 12,500 in Manhattan Beach. They had to call in extra security; it was a great show."
Finsley said there are a number of prominent Queen cover bands in the U.K. and Europe, but stateside, his band doesn't face a lot of competition at the top of the heat.
"There's a couple — Killer Queens, a band of all girls in San Francisco and Almost Queen, in the New York area," Finsley said. "We're super-busy so we don't worry too much about other people — in England and Europe there are a lot of tribute bands, but it's kind of like in Texas you'll see Stevie Ray Vaughn and ZZ Top bands."
Mercury was so known for wearing a panacea of different costumes on change, a part of capturing the artist that can be challenging.
"Costuming is great if you have set changes," Finsley said. "But sometimes we'll have shows that are 60 minutes, sometimes 90 minutes, but if you can get two sets that's best. I like to go with the diamond coat or black, slick leather with knee pads and leather jackets — I sport the leather hat and change out as much as I can… that's what helps the variety."
Finsley assures that whether fans grew up with the music of Queen, or recently came on board with the mass popularity infusion of 'Bohemian Rhapsody', they're guaranteed a great rock show.
"I think if they really liked Queen — not just the 'boom-clap-boom' 'We Are the Champions' or 'Fat Bottomed Girls' but also some of the B side songs, they're going to like it," he said. "We're all ages, user-friendly for all those people out there. We really do try to bring the attitude and the nuance of the sound with the twisting, twirling half-mic stand to portray this iconic band… We really want to party; we're people-people and we gravitate toward that. We love it when people sing — even if they're not on key, just sing. The interaction with the crowd is priceless and we feed on that energy."
Queen Nation Playlist
1. Another One Bites The Dust
2. Bohemian Rhapsody
3. We Will Rock You
4. We Are The Champions
5. You're My Best Friend
6. Under Pressure
7. Crazy Little Thing Called Love
8. Fat Bottomed Girls
9. Love of My Life
10. Now I'm Here
11. Killer Queen
12. Bicycle Race
13. Play The Game
14. Tie Your Mother Down
15. Stone Cold Crazy
16. Keep Yourself Alive
17. We Will Rock You (fast version)
18. Don't Stop Me Now
19. Dragon Attack
20. Somebody To Love
21. I'm In Love With My Car
22. I Want To Break Free
23. Death On Two Legs
24. Spread Your Wings
25. Get Down Make Love
26. Show Must Go On
27. Let Me Entertain You
28. Save Me
29. Radio Gaga
https://fuzion.com/wp-content/uploads/2019/08/qn.jpg
432
750
Ruth Aron
http://fuzion.com/wp-content/uploads/2016/02/fuzion_white.gif
Ruth Aron
2019-08-05 21:30:23
2019-08-06 13:27:58
A good time to be Queen: Nation's top tribute band plays Anchorage Friday night