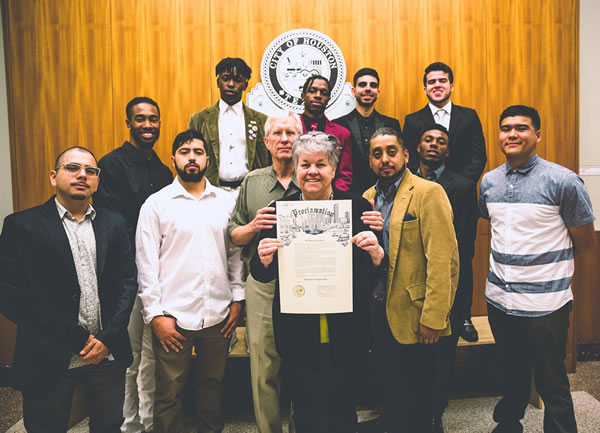 "Fly Dance Company Day" – September 30th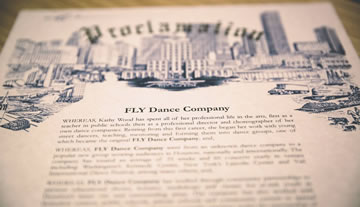 Here it is in the Mayor's own words:
On September 30, 2016, FLY Dance Company will celebrate its twenty-first year history of performing and community outreach with a dance concert at Miller Outdoor Theatre, its favorite theatre in the whole world.
Every so often a company bursts onto the dance scene with such original talent and drive that a whole new genre is born. Such it was with FLY Dance Company when its creator Kathy Wood conceived, named, and began performing her "theatrical hip hop" dance style in Houston.
FLY quickly went from an unknown dance company to a popular new group wowing audiences in Houston, in Texas, nationally, and internationally—touring an average of 25 weeks and 60 concerts yearly in venues including Washington's Kennedy Center, New York's Lincoln Center, Vail International Dance Festival, Jacobs Pillow, and Wolf Trap National Park for the Performing Arts while performing an average of 100 youth outreach shows in Houston and throughout the USA.
FLY is especially proud of its work through community partnerships to present educational shows, lectures, workshops, and classes for at-risk youth in Houston's inner city and surrounding areas. FLY has worked with detention centers, public schools, private schools, and community centers to spread positive messages for goal-setting, working hard, being respectful, staying in school, rejecting drugs, and generally staying on the right track. Because FLY's dancers are "very cool" to youthful audiences, these messages have a lasting impact.
FLY expresses its gratitude to board members for their guidance and to donors and organizations including the Houston Endowment Inc., Houston Arts Alliance, Americas Promise's Mars Millennium Project, Texas Commission on the Arts, and National Endowment for the Arts for their financial support. Without these people and organizations, FLY Dance Company might never have existed or succeeded.
Booked by the largest talent agency in North America, FLY will be traveling far and wide performing dance concerts, educational shows, and dance workshops. FLY operates under the partnership of dancers Jorge Casco, Chris Cortez, Don Lee Rivera, and Adam Quiroz with Kathy Wood as Artistic Director and is proudly carrying on its tradition as "FLY Dance Company, the Gentlemen of Hip Hop."
The City of Houston commends FLY Dance Company for its accomplishments in the arts and its community service.
Therefore, I, Sylvester Turner, Mayor of the City of Houston, hereby proclaim September 30, 2016, as
FLY Dance Company Day!!
https://fuzion.com/wp-content/uploads/2016/06/flydance_proclamation-1.jpg
433
600
Ruth Aron
http://fuzion.com/wp-content/uploads/2016/02/fuzion_white.gif
Ruth Aron
2016-06-21 10:10:48
2016-06-21 10:17:10
"Fly Dance Company Day" – September 30th