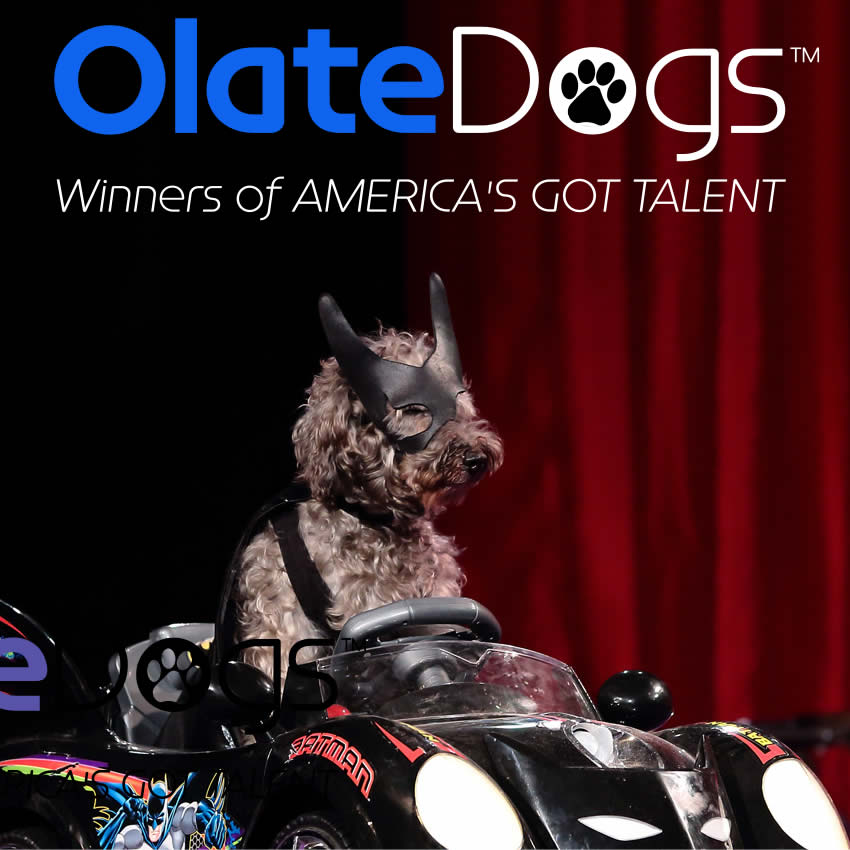 More than your average Dog Show, The Olate Dogs will amaze and delight!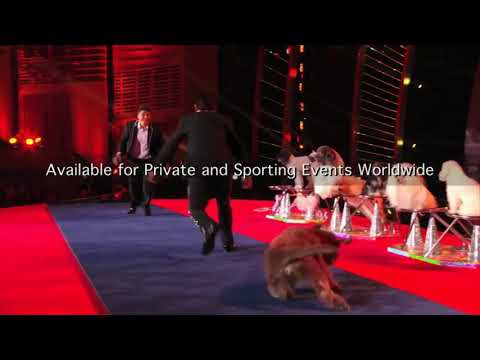 The Olate Dogs were the winning participants from Season 7 of America's Got Talent, scooping up the $1,000,000 and headlining The Palazzo.
Led by Richard Olate and his son Nicholas Olate, the Olate Dogs are a high-energy, fast-paced theatrical act filled with doggie friendly and amazing pet tricks.
[toggle_container keep_open="true" initial_open=""]
[toggle title="What people are saying…"]
"The Olate Dogs put on an outstanding show that exceeded our expectations. Having talent of this caliber brought new interest and enthusiasm to the community for our fundraising event. We look forward to welcoming them back to our town in the future." — Samantha St. John, Greater Kirkland Chamber of Commerce
"The Olate Dogs are electrifying.  Their show exuberates a level of talent you can't find in other animal acts, and they have an uncanny ability to captivate the fans from the moment their performance begins until their final pose. " —Tyler Cofer, Oklahoma City Thunder
"The Olate Dogs came to Victory Field and knocked it out of the park. They did a great job of adapting their full show to multiple in-game routines that kept the crowd and even the players asking for more. The Olate team was tremendously easy to work with and brought with them a fun, family atmosphere to the ballpark. They're truly a one-of-a-kind talent, a definite homerun." —  Robby Kimes, Indianapolis Indians
"The Olate family is wonderful to work with and their dogs are even better!  We thoroughly enjoyed having them perform at our basketball double header this year and the fans adored them.  Their performance is extremely unique and unlike any other dog show we've had in the past.  Great entertainment for fans of all ages!  Worth every dollar!" Leslie Wenert, University of Cincinnati Athletics
"Working with the Olate family has once again been an incredible experience.  They are fantastic to work with and put on the best show.  Our staff and fans were absolutely thrilled with their performance once again" Matt Keller, Orlando Magic
[/toggle]
[toggle title="About Richard Olate"]Richard Olate is from Chile South America.  He is the second youngest in a family of 22 children.  His family was very poor.  There were many times when they would not have enough to eat for days at a time. His story is not a sad one though.  At age 12 he got a dog from the street.  He loved the dog and found that he might have a feel for training.  There are many dogs roaming the streets in Chile, so guess what……?  When he had put together a routine, he, with his mother's help, booked his amateur act at schools and small circuses.  He quickly got a regular performance schedule but needed more help.  His older brother soon joined him and together they decided they could do something special.  They were right!  They worked hard creating a very unique dog act.  They spent the next few years traveling with different circuses throughout South America and in 1989 they premiered in the United States of America.  They have been here ever since.  Richard has appeared with his dogs in many television shows, made commercials, been in a movie, and worked in stage, night club and circus performances.  A true testament that no matter where you come from, hard work and determination makes dreams come true.[/toggle]
[toggle title="About Nicholas Olate"]NICHOLAS" Olate has completed his debut CD album "THINK BIG" with Grammy Songwriter-Producer Tommy Marolda.  (Imagine Dragons, Cher, Richie Sambora, Killers).  Sounding like a cross between Justin Timberlake and Ed Sheeran, this 20 year-old performer hits the national touring stage with his dance crew sometime this summer.
Nicholas Olate has been performing with his father since the age of 6.  He grew up with many dogs in the house and started early learning how to care for these beautiful animals.  As Nick got older he was given more responsibilities and he is now Richard's right hand man in everything dogs.  Nicholas has also developed into a great performer and compliments Richard's dynamic personality beautifully on the stage.  The Olate Dog act is a beautifully choreographed routine that is both exciting and unique.
[/toggle]
[/toggle_container]