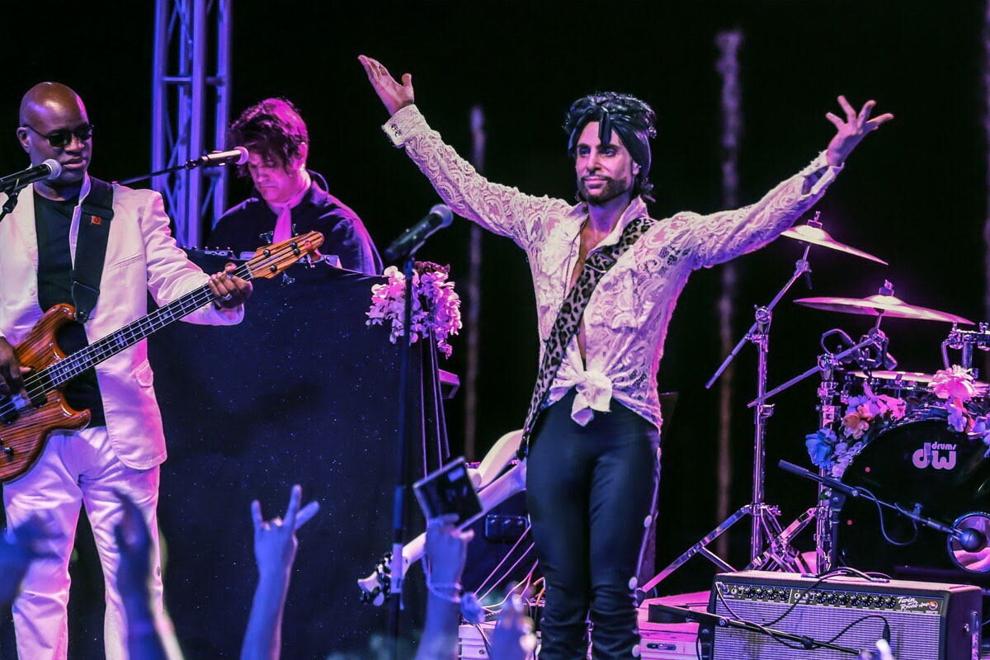 WENATCHEE — To perform Prince cover songs, Marshall Charloff must have a vocal range of four and a half octaves with a falsetto soprano to hit the "ooo"s in the song "Purple Rain."
Charloff and the Purple Xperience perform a 7 p.m. show Friday at Numerica Performing Arts Center, 123 N. Wenatchee Ave. Tickets cost from $29 to $49 and can be purchased online at numericapac.org or at the PAC box office.
In a telephone interview from Austin, Texas, Charloff said that he is not in his head about impersonating Prince while on stage, and that this allows for a very comfortable delivery of musicianship at the highest level, reflected in his style, movements and gestures. "I channel his energy and that's it," he said.
Since he has been touring as Marshall Charloff and the Purple Xperience for almost 12 years, he said "performing Prince's catalog for this long has taken me to different areas I wouldn't have explored if I wasn't a tribute artist in my own writing and composition. In that respect I'm sure it's stretched me as a musician."
Prince played 27 different instruments on his debut album, "For You," which he produced, arranged, composed and performed in 1978 at age 20. Charloff also hails from "The Purple City" of Minneapolis, Minnesota. He is an accomplished musician in his own right as a producer and recording artist with the Commodores, Little Anthony and others, and an inductee in the Mid America Music Hall of Fame with the band Westside.
Charloff met Prince for the first time while recording together on a 94 East album with his mentor Pepe Willie, with Prince on lead vocals and Charloff on keyboard and bass guitar. Notably, Prince's keyboardist Dr. Fink was a founding member of the Purple Xperience in 2011 with Charloff, and played with the band until going on tour with The Revolution in 2016.
Current members of Purple Xperience are Charloff as lead singer and instrumentalist, Tracey Blake on lead guitar, Ron Long on bass guitar, Ron Caron on drums and Cory Eischen on keys.
Prince died in 2016, so he was alive and touring when Purple Xperience began performing in 2011. "When Prince passed away it was much more purposeful," said Charloff. "It shaped our approach."
Charloff said since venues pay licensing fees, bands don't need permission from the original artist to perform or record their works, so there's no contention about performing covers; it's a win-win situation.
"The hits are the hits," said Charloff, meaning about 30 of the most popular hit songs from Prince's catalog of a couple thousand songs. Prince released almost 40 unique albums. The band considers that most audiences are casual fans, but they sprinkle in some deep cuts for the hardcore fans.
Charloff said he's felt "cosmically connected to Prince" for most of his life. "That's why I think it doesn't come across as forced or affected," he said.
Source
https://fuzion.com/wp-content/uploads/2022/09/mc.jpg
660
990
Ruth Aron
http://fuzion.com/wp-content/uploads/2016/02/fuzion_white.gif
Ruth Aron
2022-09-20 11:57:28
2022-09-28 12:02:42
Marshall Charloff channels the energy of Prince for tribute show