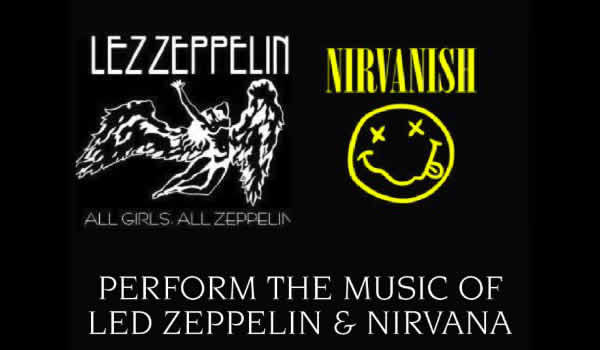 Lez Zeppelin and Nirvanish @ UCPAC – Saturday, May 20th 2017
It will be a loud night of splintering electric guitars, plus hundreds of voices from the audience singing along to their favorite hits, at the Union County Performing Arts Center on May 20.
Two adrenaline-inducing tribute bands representing rock legends take the stage at 8 PM: Lez Zeppelin, an all female tribute to the hard rock '70s band Led Zeppelin, and Nirvanish, a tribute to the grunge, early '90s band Nirvana. From fans that have been fans since Led Zeppelin was founded to those born right after Nirvana's prime (who grew up listening to their parent's records), this concert will provide as faithful an experience to the real deal as anyone could find.
Lez Zeppelin, founded in 2004, began to grow in acclaim after being the subject of a 2005 article in SPIN magazine, and subsequently the subject of countless other publications and spots ranging from a front page feature on CNN.com to a nation-wide feature on CBS Good Morning. The band was, and still is, praised for their contributions in a social setting where all-female rock tribute bands were beginning to surface and playing just as hard, fast and mean as their original counterparts. Their self-titled first album was released in 2007 (produced by one of Led Zeppelin's actual recording engineers, Eddie Kramer), and in 2008, Lez Zeppelin headlined opening night of Tennessee's Bonnaroo Festival. Lez Zeppelin's second album, Lez Zeppelin I, was released in 2010. The band took great pains to record this album with the same vintage equipment Led Zeppelin used on their first self-titled album in 1969, including a Fuzzbender stomp box, a '50s era Telecaster and Les Paul, a '60s era compressor, etc. Their dedication to the fidelity of their recorded music compared to Led Zeppelin's is a testament to the experience of their live shows.  continue reading…
http://fuzion.com/wp-content/uploads/2017/04/lez_zeppelin_nirvanish-1.jpg
350
600
Ruth Aron
http://fuzion.com/wp-content/uploads/2016/02/fuzion_white.gif
Ruth Aron
2017-04-30 05:07:47
2017-04-30 05:07:54
Lez Zeppelin and Nirvanish @ UCPAC – Saturday, May 20th 2017