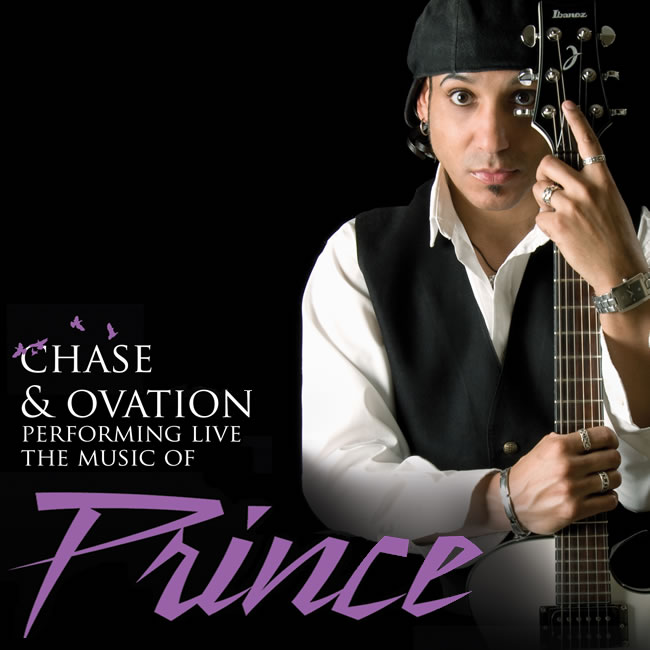 For the last 9 years, Prince has allowed me to travel the U.S. and perform in tribute to his music. In particular, over the past five years we have been allowed to perform a monthly concert at his favorite night club, Bunkers Music Bar, which is located in our home town of Minneapolis. I have always done this with Prince's permission, under the name "Chase & Ovation" and frequently joined on stage with Prince's band mates. That said… I wake up filled with gratitude every day and give thanks in prayer for the gift of music that Prince has given to me, but MORE im
portantly the gift that he has given to the world!
From being babysat by Prince's mother Mattie after my adoption in to the Chase family, to my work with Prince on the set of his film "Graffiti Bridge", to performing for a year with Brown Mark (Bassist for Prince and the Revolution) in the band Cryptic…Like SO many of us around the world, the music of Prince and the Minneapolis sound has been the soundtrack to my life.
After a week of heartache in his absence and while considering retirement from my Prince tribute, it has become abundantly clear, through the outpouring of unconditional love that we've received from around the world, that discontinuing our performances of his music would be a tremendous disservice to the very one who allowed me to do it in the first place. PRINCE! As difficult as the upcoming shows will be to perform, Chase & Ovation will indeed honor all dates and has begun accepting opportunities to showcase his music around the world.
On a personal note… Why did Prince allow me to perform his music while the world knew how closely he protected his art??? It is only now that I understand how happy he was that I never tried to impersonate him by wearing a "purple jacket" and the like, but instead that I pay tremendous reverence to his voice and musical prowess rather than his wardrobe.
Thank you dear brother, Prince! The band and I will do all we can to honor all you left us here with!
You have indeed created the soundtrack to life for an entire planet and until the end of time… we will truly adore YOU!!!
~Chase