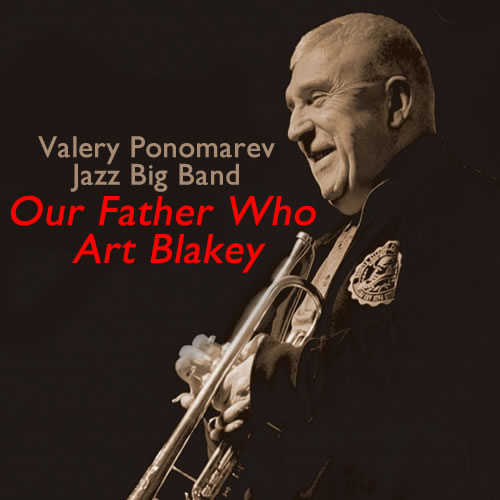 "It took some doing to get Blakey's small band arrangements fleshed out for this big band. Ponomarev is an exacting arranger, especially on Blakey's "No Hay Problema" which the master originally performed on the 1959 soundtrack to the French film Les Liaisons Dangereuses.Valery Ponomarev arrived in New York City in 1973. It was no small feat. Documented in both book (On The Flip Side Of Sound) and film (Trumpeter From Russia), this brave musician will always consider himself a Jazz Messenger." — Mike Greenblatt on recent CD Review
"This live set by trumpeter Valery Ponomarev's big band is dedicated to his hero, mentor, and musical father, the great Art Blakely. Drawing largely from Jazz Messengers repertoire and sparked by a solid array of soloists — including special guest and Messengers veteran, tenor saxophonist Benny Golson — this is a most impressive debut recording by one of NYC's finest large ensembles". — Bob Bernotas, Jazz Author-Historian-Lecturer
---
"Our Father Who Art Blakey," aka VPJBB, is the "best kept secret" on the modern jazz horizon today. The music of the band projects into the future the spirit set forth by the best Blue Note Artists of the 50s and 60s, covering the transformation of acoustic jazz music from those times until today.
VPJBB commands an enormous repertoire. The portion most loved by the audience and musicians alike is dedicated to the memory of Art Blakey and The Jazz Messengers. This music of the Messengers, loved all over the world, is now heard in the Big-Band format, incorporating not only the original small group arrangements, but solos, backgrounds, accompaniments, harmonies, etc., as they were performed by Art Blakey, Clifford Brown, Lee Morgan, Freddie Hubbard, Wayne Shorter, Curtis Fuller, etc. "After all," says Mr. Ponomarev, "Art Blakey, as a young man, developed his incredible musical concept in big-band of Billy Eckstein, Duke Ellington, Earl 'Fatha' Hines, etc. and applied it to his own small groups. All I did was to take music of the Messengers and bring it back to where it sprung from – Big-Bands."
The musicians in the band are the most respected and successful young musicians on the jazz scene today:
Saxophones –Todd Bashore, Chris Hemingway, Peter Brainin, Antony Nelson
Trombones – Stafford Hunter, Alvin Walker, David Wight, Jack Jeffers
Trumpets – Rick Henly, Miki Hirose, Josh Evans, Waldron Ricks
Piano – Mamiko Watanabe
Bass – Rouslan Khain
Drums – Victor Jones
Vocal – Jackie Jones
But regardless of who is in the band at the present moment, the music of the band, from the very first sounds, mesmerizes the audience. It doesn't take long before sparkles in the form of applause, tapping feet, shaking heads, yelling and screaming start flying around the air in response to the music. From the audience – back to the stage, from the stage to the audience and back again. By the end of a concert, an alternating current is set at its highest peak, reigning supreme. Musicians, music and the audience blend in one dazzling alloy where it doesn't matter what component of the alloy you are, as long as you are a part of it. Long after a performance is over, the listener is still under the spell, reliving again and again the magic of creating beauty.
This is the kind of a band which reminds the audience that emotion, ability to think and feel, not computer generated artificiality, puts us humans one whole step above the rest of the Animal Kingdom.