LET'S GET IT ON!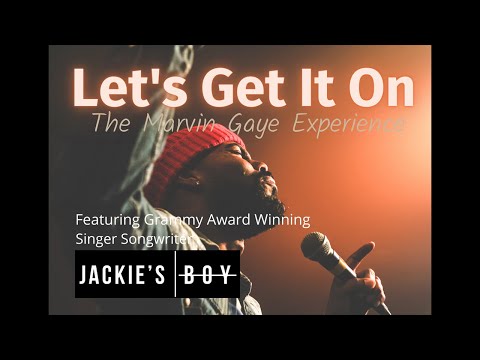 "Let's Get It On" is a celebration concert featuring the music of the late great Marvin Gaye and other Motown artists. The act features the Grammy award winning songwriter and artist "Jackie's Boy".
The Show is amazing, playing all the colossal Marvin Hits and other Motown Legends …
No sitting down at this show, everyone sings and dances at a "Let's Get it On" concert.
JACKIE'S BOY BIO
This Grammy-Award Winning songwriter has written, sang, and performed to countless audiences and has touched the hearts of many that have paved the way for his musical success. Jackie's Boy has proved that his talents ensure hits and are highly sought after knowing that he brings success and a Savannah southern flair to every project he works on..
As a Songwriter, Jackie's Boy credits include:
Flo Rida "Sugar"- Billboard HOT 100: 5
Madonna FT David Guetta "Revolver (Remix)"- Grammy Award for Best Remixed Recording, Non-Classical.
Chris Brown "Graffiti"
Mann "Buzzin"- Billboard HEATSEEKERS SONGS: 1
Sean Kingston featuring Justin Bieber "Eenie Meenie"- Billboard HOT 100: 15
Johnny Gill ft New Edition "This ones for me and you" #1 R&B Billboard Charts (2016)
Charlie Wilson "Im Blessed" #1 R&B Billboard Charts (2017)